Education
Ph.D., Geography, University of Tennessee, 2014
M.S., Geospatial Science, Missouri State University, 2005
B.S., Biology (Ecology Concentration), Lake Superior State University, 2002
Research Interests
My primary research focus is on river system dynamics. I am particularly interested in the application of geospatial technologies, such as GIS and Remote Sensing, to the identification and analysis of longitudinal patterns in rivers, and linking those patterns with fluvial process and human impact. My most recent research looks at the large-scale depositional patterns of fluvial wood, and the extent to which fluvial wood serves as a sediment storage mechanism in low-gradient river systems. I have also been involved with research in the Missouri Ozarks region, and the North Carolina Piedmont region that looked at the longitudinal dispersal trends of lead- and mercury- contaminated sediments from historical mining activities.
Current Classes
GHY1010 – Introduction to Physical Geography
GHY1012 – Global Change of the Biosphere
GHY/PLN 3800 – Introduction to Quantitative Methods
Publications
Martin, D.J., Harden, C.P., Tran., L, Pavlowsky, R.T. 2018. Investigating patterns of in-channel wood deposition locations in a low-gradient, variably confined river system. Progress in Physical Geography 42(2):139-161.
Martin, D.J., Pavlowsky, R.T., and Harden, C.P. 2016. Reach-scale characterization of fluvial wood in a mid-gradient, confined-meander river system. Geomorphology 262, 91-100
Keck, B.P., Marion, Z.H., Martin, D.J., Kaufman, J.C., Harden, C.P., Schwartz, J.S., and Strange, R.J. 2014. Fish functional traits correlated with environmental traits in a temperate biodiversity hotspot. PLoS ONE 9(3): e93237. doi:10.1371/journal.pone.0093237.
Lecce, S.A., Pavlowsky, R.T., Bassett, G.S., and Martin, D.J. 2012. Metal contamination from gold mining in the Cid District, North Carolina. Physical Geography 32 (5) 469-495.
Martin, D.J., and Pavlowsky, R.T. 2011. Spatial patterns of channel instability in an Ozark river, SW Missouri. Physical Geography 32 (5) 445-468.
Pavlowsky, R.T., Lecce, S., Bassett, G. and Martin, D.J. 2010. Legacy Hg-Cu contamination of active stream sediments in the Gold Hill mining district, North Carolina. Southeastern Geographer 50 (4) 503-522.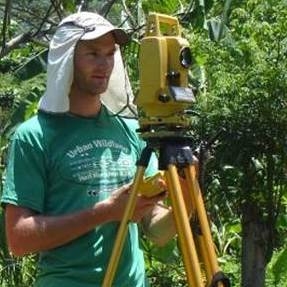 Title:

Graduate Program Director & Associate Professor
Department:

Geography and Planning

Email address: Email me

Phone: (828) 262-8905
Office address
Rankin Science West 375