Education
Ph.D., Minnesota, 1995
Research and Interests
Kathleen's research interests include food systems, and issues of gender and development. She has spent a good deal of time in Latin America and particularly in Bolivia where she has conducted research since 1992. Dr. Schroeder served as Department Chair of Geography and Planning from 2010 to 2020 and has now returned to the faculty full time.
Kathleen particularly enjoys teaching regional geography courses both World Regional (GHY 1020) and Latin America (GHY 3014) because they allow her to examine in depth some of the places that she loves. She also enjoys her course Geography of Food (GHY 3700) because a geographic examination of food systems tells us so much about what a society values. Most recently, she was a co-PI on a grant from the US State Department to work with the University of Free State in South Africa on a women's leadership development program.
Recent Publications
Andrew Bagwell, Harrison Brown, Carly Pugh, Kathleen Schroeder, Charles F. Weir & Quincy Williams. (2022). COMMUNITY FOOD RESILIENCE IN THE TIME OF COVID: AN EXAMPLE FROM AN APPALACHIAN COUNTY, Geographical Review, DOI: 10.1080/00167428.2022.2085103. (PDF).
Gregory, L.; Schroeder, K.; Wood, C. A Paradigm Shift in International Service‐Learning: the Imperative for Reciprocal Learning. Sustainability, 2021, 13, 4473. https://doi.org/10.3390/su13084473. (PDF)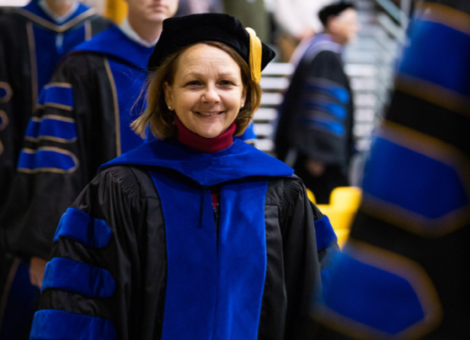 Title:

Professor, Latin America; Gender & Development; Food Systems
Department:

Geography and Planning

Email address: Email me

Phone: (828) 262-7055
Office address
Rankin Science West 285