The GIS and Image Processing Lab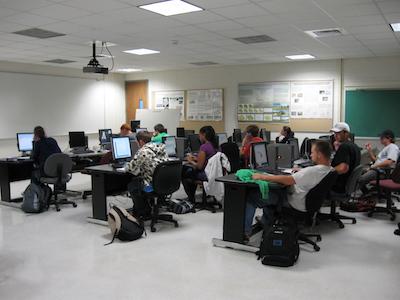 The Geographic Information Science (GIScience) Laboratory is located in the Department of Geography and Planning and managed by a full-time system administrator. The lab consists of two classrooms, one room for regular student use and a second room for teaching. The labs contain a variety of Dell Precision workstations running Windows 10. The lab computers are part of the university network and use a cloud based storage system, and the department has its own data server. The main software packages for geographic analysis and map production include ArcGIS 10.x, ENVI 5.x, ERDAS Imagine, and Adobe Creative Suite 6. In addition, lab facilities include one color and one black and white laser printer, two scanners, and a large-format plotter.
Monday – Thursday: 8AM – 9 PM
Friday: 8 AM – 5 PM
Saturday: Closed
Sunday: 1 PM – 5 PM
The lab is closed on holidays and it closes early the day before holidays. See calendar for details.
If the lab is not open, view the map of all computer labs on campus.
Research Labs
Two research labs are also located in the department and provide undergraduate and graduate students the opportunity to work with faculty on research projects. The labs contain several high-end workstations for data processing and a web server. A large-format plotter is available for printing maps and posters.
Other available equipment includes several handheld Garmin GPS units used for student education and two Trimble GPS units for faculty and graduate student research. The Geography and Planning Department also manages the SDE database, which houses most spatial and digital data for Watauga and surrounding counties.
Computation and Visualization Lab
The College of Arts and Sciences maintains the Visualization Lab for research which requires higher computing power. The lab is located on the second floor of Rankin Science West. All Arts and Sciences Faculty, including Geography and Planning Faculty, can request access to the lab for themselves or students working on research projects which would benefit from these computers.
Geography and Planning Network Drives
F: Drive – Students
This drive offers 1) a permanent workspace for enrolled graduate students and 2) course specific workspace for any student enrolled in Geography and Planning courses requiring computer based labs. Drive contents are secure, backed up regularly, and removed at the end of each semester.
O: Drive – Data - "ghypln"
This drive is read only and contains materials used in Geography and Planning classes.

**Only students enrolled in Geography or Planning classes may utilize the network drives**